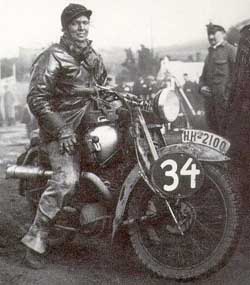 Pre and post World War II era



The usage of two-wheelers where widespread during the world war II, practically all countries used motorcycles as ordonnances, often in rough terrain. Germany had a number of war time manufacturers such as DKW, BMW, Puch, NSU, Zündapp, Ardie, Standard, Horex, Hercules, D-Rad and Victoria.

The Wehrmacht also used some captured better known motorcycles from the allied forces such as Norton, Triumph, Velocette, Ariel, FN, Indian, BSA, Harley Davidson and so on. The usage was perhaps a bit different from motocross but there has always been a strong relationship between army motorcycling and enduro.

The Russian and eastern-european brands at the time was TIZ, IMZ, IZh, L, Jawa, PMZ and Sokol and in Italy Gilera had taken up production.

Army motorcycles where usally equipped with more off-road like tires and a great deal of effort was put into the area of reliability. The army also used sidecars and one can imagine that the sidecar motocross idea came from this.

500GP 1949 (European Championship)
The World Grand Prix series started as a European championship. It wasn't yet a full serie but mere spreads out competitions. The winner in 1949 imola race was Great Britains Harold Lines.

Motocross Des Nations 500cc 1947 - 1949
The international motocross competition started 1947. There was only one class. Motocross Des Nations preceeded the individual European Championship with a few years.

1947 edition was held at 27'th July in Holland (Duinrell) and won by Great Britain: Bill Nicholson (BSA), Fred Rist (BSA) and Bob Ray (Ariel). The Belgium "B" team took second place with J Frenay (Gillet), Marcel Meunier (Triumph) and V Govaerts (Gillet). The Belgium "A" team got third with: Auguste Mingels (Triumph), A Van Hove (AJS) and L Delhaes (AJS).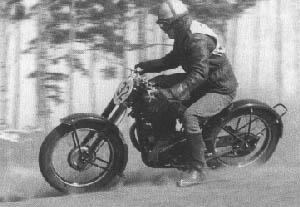 Belgium won in 8'th of August 1948 in Belgium (Spa) with their team Nic Jansen (BSA), Marcel Cox (Triumph) and André Milhoux (BSA). That year Great Britain was second with Hugh Viney (AJS), Geoff Duke (Norton) and Basil Hall (Matchless). Holland got third with Heida, Koning, Van Heukelom but they failed to finish the competition intact

1949, the 28'th of August in Great Britain (Brands Hatch), Great Britain won again with riders: Harold Lines (Ariel), Bob Manns (Triumph) and Ray Scovell (BSA). Belgium took second, This time with the riders Nic Jansen (Saroléa), Victor Leloup (FN) and R Pickart (BSA). Sweden took third spot with the team Lennart Karlström (Ariel), Olle Nygren (BSA), Berndt Hasselrot (AJS).

ISDT 1930 - 1949
International organized motocross (scrambling) started in the mid 40's so most of the earlier competition was a mixture of on-off road riding, and of course the ISDT (International Six Days Trial) that started as early as 1913. The ISDT results here starts from 1930. There are two different Tropys that can be won in the ISDT. The Trophy which is the senior main title and the Silver Vase which is a junior competitions. There are of course individual standings in all displacement classes but since it's a team competition we will only list the countries (teams) winners.

| | | |
| --- | --- | --- |
| Year | Trophy | Silver Vase |
| 1930 | Italy | France |
| 1931 | Italy | Holland |
| 1932 | Great Britain | Great Britain |
| 1933 | Germany | Great Britain |
| 1934 | Germany | Great Britain |
| 1935 | Germany | Germany |
| 1936 | Great Britain | Great Britain |
| 1937 | Great Britain | Holland |
| 1938 | Great Britain | Germany |
| WW II | No competitions | No competitions |
| 1947 | Czechoslovakia | Czechoslovakia |
| 1948 | Great Britain | Great Britain |
| 1949 | Great Britain | Czechoslovakia |
Unfortunately I don't have much information to provide regarding the competitions before World War II.

The 1948 competitions didn't attract too many foreign riders and other obstacles like gasoline restrictions made it a rather uninteresting event. It was however entirely won by Great Britain. The Trophy team had the following members: Allan Jefferies, capitain (498 triumph), Vic Brittain (346 Royal Enfield), Charley Rogers (346 Royal Enfield), Hugh Viney (498 AJS), Jack Williams (499 Norton).
The Silver Vase (Junior Trophy) team members where: Jim Alves (498 Triumph), Bob Ray (497 Ariel), Jack Stocker (499 Royal Enfield).

In 1949 Great Britain again managed to win the Trophy. The 1949 riders where: Jim Alves (498 Triumph), Bob Ray (497 Ariel), Fred Rist (499 BSA), Hugh Viney (498 AJS).
The Czech Junior team won the Silver Vase. Among their riders where: J Kubes (Jawa/Ogar), E Marha (CZ), F Blaha (CZ), J Krcmar (CZ).
That year it was a more demanding event for both man and machine. The Italians had a full team. The Czeck Trophy team had a fierce fight with the Brittish team but was beaten in the end. They got a bit of revenge since they managed to win the Silver Vase though. The first USA rider named Tommy McDermott took individual gold.




Resources on army and civil motorcycles 30's - 40's.


Bike index

while ($bike = mysql_fetch_array($bikes)) { ?> echo $bike['BMARKE']; ?>
} ?>